Capstone Experience
The online UW Master of Science in Applied Biotechnology curriculum concludes with a capstone project. The capstone is an opportunity to apply what you've learned in the program to a project-based experience for an actual workplace or other professional setting.
Capstone project aligns with your interests and career goals.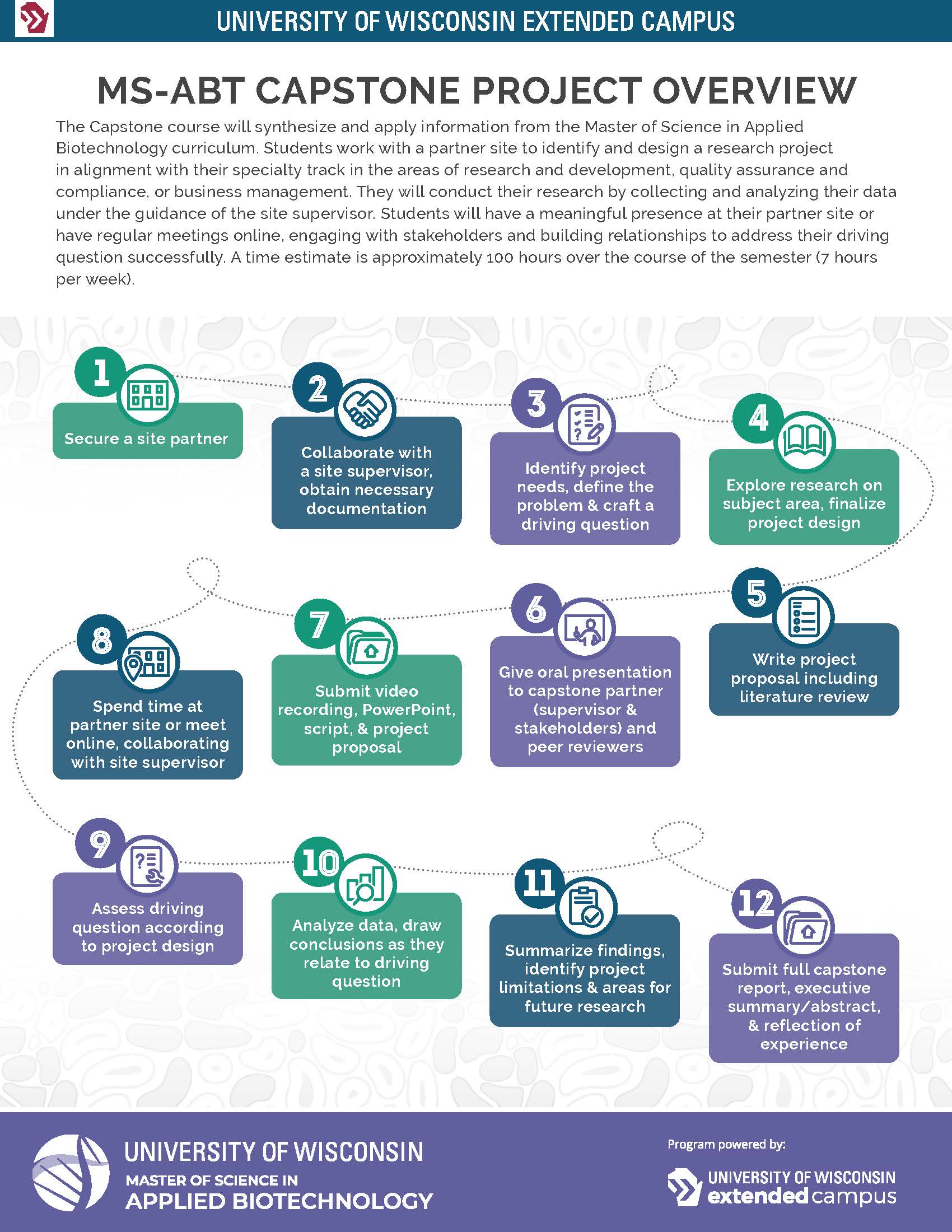 You'll work with a partner site to identify and design a research project or business plan that aligns with your specialization track (Quality Assurance and Compliance, Business Management, or Research and Development) and collect and analyze data under the guidance of the site supervisor. You'll have a meaningful presence at your partner site or hold regular meetings online, engaging with stakeholders and building relationships to address your driving question successfully. Typically, students spend approximately 100 hours over the course of the semester (7 hours per week) on the capstone project.
Students often discover rewarding job opportunities and professional connections during this final course. Gain the real-world experience employers value and set yourself apart from the competition. Past capstone students in other UW Extended Campus online programs have completed capstone projects for major organizations such as UW Medical Foundation, UnitedHealth Group, and the Green Bay Packers.
---
Are you a company that would like to be a capstone host?
As a capstone host, you'll provide opportunities for UW Master of Science in Applied Biotechnology students to complete a project with your organization. Serving as a capstone host allows you to offer guidance and mentorship to students entering the biotechnology field.
The capstone course is typically taken during the final semester. Projects are designed in collaboration with the course instructor, a site supervisor, and other staff members, as needed. Students apply skills and knowledge learned through program coursework leading to an experience that builds confidence and demonstrates a thorough understanding of biotechnology concepts in the student's area of specialization.
Learn more about the Capstone Host Guidelines and Responsibilities. If you're interested in serving as a capstone host for the UW Master of Science in Applied Biotechnology, please complete the Capstone Host Questionnaire for consideration.