For most of us, 2020 will go down as the year we would like to forget. COVID-19 caused us to drastically alter how we do almost everything within the workplace and schools. It also forced us to socially distance from friends and family. As 2021 begins, we all hope to regain some normalcy in our lives now that two vaccines against SARS-CoV-2 are beginning to be widely distributed throughout the U.S. Additionally, with the change of administration in the White House, we anticipate shifts in science policies and funding to occur.
In this month's Affinity Column, I will cover what to expect in the near future within biotechnology. Presently, COVID-19 is still a threat as we take steps toward preventing further spread by increasing the speed by which we obtain and report positive test results. Furthermore, mutations are cropping up in the SARS-CoV-2 virus, raising questions about the continued effectiveness of vaccines in preventing COVID-19. How can we use what we've learned to prepare for the next pandemic?
What I'm reading…
Newly-elected President Biden is in the process of choosing cabinet members, along with creating a new cabinet-level position: director of the Office of Science and Technology Policy (OSTP). If this newly-appointed position is approved by the senate, science policy will be a central focus of the administration.
President Biden has selected MIT geneticist, Dr. Eric Lander for this role to serve as his scientific advisor. Dr. Lander is best known for his role in the Human Genome Project, the government-backed initiative to sequence the entire human genome for the first time. He would be the first biologist to fill the position. 
Ahead of the confirmation, President Biden has outlined five key initiatives for OSTP to pursue: emerging pandemics, climate change, future technologies and innovations, benefits of scientific discoveries for all, and long-term health of science and technology (science education!).

Request More Information
Download a program guide for the Master of Science in Applied Biotechnology or Graduate Certificate in Applied Bioinformatics with details on admission requirements, tuition, and courses.
What I'm learning…
Along with preventative measures, such as mask wearing and vaccines, a key component of controlling the spread of COVID-19 is testing for the disease. COVID-19 diagnostic tests need to generate accurate results as quickly as possible to implement effective contact tracing and isolation. A person who is COVID positive has the potential to spread the coronavirus to many others before they are aware they are infected. The faster the positive result is obtained, the quicker the person can self-quarantine, preventing further transmission.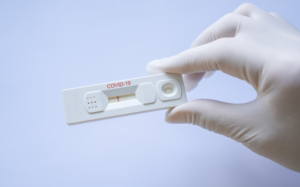 Early COVID-19 diagnostic tests were developed on the RT-PCR platform, requiring testing to be completed in a lab and releasing results to the patient in a few days. More recently, rapid COVID-19 tests, such as Abbott's BinaxNOW, are able to produce equivalent results within minutes. BinaxNOW also does not require special equipment, allowing it to be performed in non-laboratory settings, such as offices and college campuses. Rapid COVID-19 testing instantly reveals who has the disease to take immediate steps toward stopping its spread.  
What I'm listening to…
Dr. Michelle McMurry-Heath was appointed president and CEO of the Biotechnology Innovation Organization (BIO) in 2020. She was the first African-American woman to graduate from Duke University's Medical Science Training Program, earning both an M.D. and Ph.D. During her career, she founded the Aspen Institute's health and science program and held high-level positions at the FDA and Johnson & Johnson.
In 2020, Dr. McMurry-Heath was in charge of the "Coronavirus Collaborative Initiative" for BIO, breaking down traditional barriers within biotechnology to pave the way for production of COVID-19 vaccines and treatments in record time. In her interview for Forbes Magazine, Dr. McMurry-Heath talks about the current state of the biotechnology field, future challenges that will be faced, and preparedness for the next pandemic.
---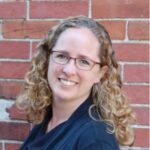 About the author: Dr. Melinda Verdone is the former program manager of the 100% online University of Wisconsin Master of Science in Applied Biotechnology program. She earned her M.S. in Microbiology and her Ed.D. in Higher Education and has more than 20 years of biotechnology experience working in research and development and higher education.
Learn more about the University of Wisconsin Master of Science in Applied Biotechnology program by contacting a knowledgeable enrollment adviser at 1-877-UW-LEARN (895-3276) or learn@uwex.wisconsin.edu.