With at least two COVID-19 vaccines showing positive clinical trial results, we have reason to be optimistic in the months ahead. The vaccine developed by Pfizer and BioNTech showed greater than 90% efficacy and the Moderna vaccine was 94.5% effective in preventing disease. These vaccines will be the focus of this month's Affinity Column, including an in-depth look at these two vaccines, the process of getting them to the general public, and what the next steps in fighting COVID-19 will be.
What I'm learning…
The Pfizer-BioNTech and Moderna vaccines are both composed of mRNA, a single strand of genetic material that encodes for the SARS-CoV-2 spike protein. Once the vaccine is injected, the mRNA enters the cell and instructs the production of viral spike protein. This newly-formed protein is detected by the body's immune system, producing antibodies against the protein. Should someone encounter the SARS-CoV-2 virus in the future, these antibodies will bind to the viral spike protein and prevent the virus from binding to and entering human cells, thus stopping the development of the COVID-19 disease.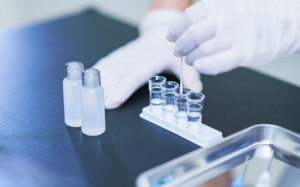 Historically, vaccine development has been slow, but these vaccines were created faster than any others in history. How was this possible? Traditional vaccine development involves injecting chicken eggs with a virus, incubating for several days, harvesting the liquid, inactivating the viruses, and purifying the viral proteins. For the influenza vaccine, this process takes about six months from annual viral strain selection to final vaccine production. Conversely, mRNA vaccines are produced through chemical synthesis rather than through biological means. For Moderna's COVID-19 vaccine, it took about 2 months to go from selection of the vaccine candidate in January to the start of human clinical trials in March. Check out the status of leading COVID-19 vaccines in development here.

Request More Information
Download a program guide for the Master of Science in Applied Biotechnology or Graduate Certificate in Applied Bioinformatics with details on admission requirements, tuition, and courses.
What I'm listening to…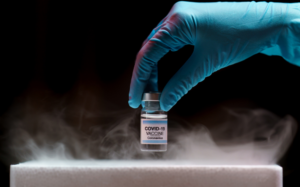 One downside to mRNA vaccines is they must be kept extremely cold prior to use, which NPR discusses in the Morning Edition episode on November 17, 2020. The Moderna vaccine must be stored at -20 degrees Celsius (regular freezer temperature), while the Pfizer-BioNTech vaccine is stored at -70 degrees Celsius (as cold as an Antarctic winter!). The reason for these low storage temperatures is that mRNA is fragile and breaks down quickly. Freezing slows down this degradative process. As a result, manufacturers must have cold-chain transportation and storage networks in place to distribute the vaccine for use. Additionally, Pfizer-BioNTech has developed special insulated containers to keep their vaccine sufficiently frozen during shipping.
What I'm also learning…
The next step for Pfizer-BioNTech and Moderna is to obtain approval by the Food and Drug Administration (FDA) for their vaccines. The FDA is responsible for ensuring the safety and efficacy of all drugs, biological products, and medical devices. Both companies are seeking emergency use authorization, an abbreviated process that allows for urgent product distribution during public health emergencies, such as this one. If approved, the Pfizer-BioNTech and Moderna vaccines will be the first mRNA vaccines for use in humans. (Previously, the only available vaccine composed of genetic material was a DNA virus for West Nile Virus in horses.) On the current trajectory, a COVID-19 vaccine could become available in the U.S. as early as mid-December.
The availability of a COVID-19 vaccine could allow restrictions on social gatherings to be lifted and a return to in-person schooling. However, before that can occur, the majority of the population will need to receive the vaccine, which is not a simple task. Also, it remains to be seen if a vaccine will prevent the transmission of the virus in addition to preventing the disease, and it is unknown how long immunity will last. Right now, there are still questions to be answered, but I, for one, am hopeful.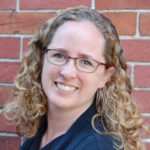 About the author: Dr. Melinda Verdone is the former program manager of the 100% online University of Wisconsin Master of Science in Applied Biotechnology program. She earned her M.S. in Microbiology and her Ed.D. in Higher Education and has more than 20 years of biotechnology experience working in research and development and higher education.
Learn more about the University of Wisconsin Master of Science in Applied Biotechnology program by contacting a knowledgeable enrollment adviser at 1-877-UW-LEARN (895-3276) or learn@uwex.wisconsin.edu.