After completing a bachelor's degree in agricultural sciences from Tamil Nadu Agricultural University in India, Muthu Venkateshwaran received a junior research fellowship to pursue a master's degree specializing in plant pathology at ANGR Agricultural University in Hyderabad, India. During and after completing his master's degree, Venkateshwaran pursued research in national and international institutes, such as International Crops Research Institute for Semi-Arid Tropics (ICRISAT), Directorate of Sorghum Research, and Directorate of Maize Research.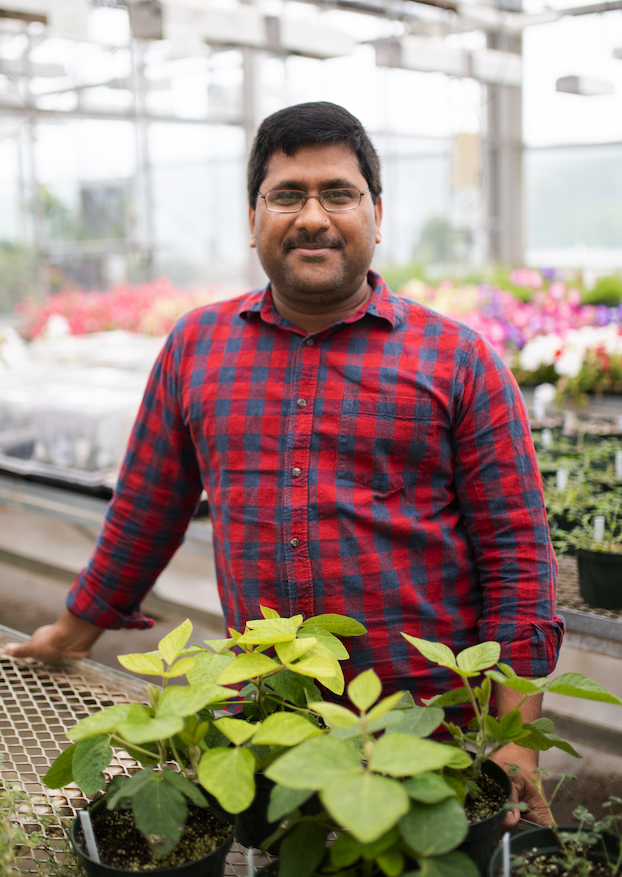 But, his academic and research pursuits didn't stop there. Driven by his passion to understand the molecular mechanisms of plant-microbe symbiotic and defense signaling pathways that enable plants to attract beneficial microbes and to fight against pathogens, Venkateshwaran began work on a doctoral degree in plant pathology at the University of Wisconsin-Madison.
After completing his Ph.D., Venkateshwaran worked at the UW-Madison Biotechnology Center as a postdoctoral researcher before joining UW-Platteville's faculty. Now, as an associate professor at the School of Agriculture, Venkateshwaran teaches lower and upper-level courses, such as Crop Science, Plant Biotechnology, Plant Pathology, Plant Physiology, and more.
2019 has been an eventful year for Venkateshwaran. In June, the National Science Foundation (NSF) recognized him with the CAREER Award, a five-year grant of $750,000 to help fund plant-microbe symbioses research and to expand outreach to area high schools. Additionally, he received the 2019 Non-Land-Grant Agricultural and Renewable Resources Universities (NARRU) Distinguished Young Educator Award and the 2019 UW-Platteville Outstanding Faculty Academic Advisor Award. He also joined the faculty of the online UW Applied Biotechnology degree program set to begin in January 2020. The following is a Q&A with Venkateshwaran about his exciting year:
Q: Congratulations on receiving the CAREER Award grant! What does this award mean to you and your future teaching?
The NSF Career Grant is very prestigious, and I am so humbled and honored. I am passionate about research in the area of plant-microbe symbiosis, and through this grant we would be able to make a strong leap in our understanding of plant-microbe symbiotic signaling. I strongly believe that this project will act as an excellent vessel for the recruitment, training, and retention of students in STEM-related fields at UW-Platteville, while providing much needed information for our stakeholders in crop improvement and promoting sustainability in crop production.
As for my students, this research will bring more opportunities to work in the areas of plant functional genomics and bioinformatics. This grant also helps with my educational and outreach goals, as I plan to annually organize and conduct a research and curriculum development workshop for area high school teachers and a biotechnology boot camp for high school students.

Request More Information
Download a program guide for the Master of Science in Applied Biotechnology or Graduate Certificate in Applied Bioinformatics with details on admission requirements, tuition, and courses.
Q: You will teach the "Principles of Biotechnology" course for the UW Applied Biotechnology online degree program. What can students expect from this course and your teaching style?
This is going to be one of the first classes that students take in the program, so they will be learning and strengthening their foundation in biotechnology. Some students might come in with previous coursework on the subject, but the goal of the course is to bring everyone to the same page—understanding and building upon fundamental concepts: the different areas of biotechnology, how these areas have changed over time, and current trends in biotechnology.
There will be video lectures that students will watch, along with assigned readings that are followed by assessments that test their comprehension of each lesson. Students will be given plenty of opportunities to participate in discussions with their peers, and of course, there will be opportunities for them to set up office hour-like meetings with me via phone or video call.
Q: What skills can students expect to gain from your course?
In addition to learning principles and techniques related to biotechnology, students will also gain soft skills, such as effective communication, problem-solving, leadership, and teamwork. Students will be presented with case studies on various topics within biotechnology to help them directly apply their knowledge from each lesson and to strengthen their problem-solving skills. Through these assignments, they will also learn how to effectively communicate their ideas to a variety of different audiences. 
For example, students will present on research topics at the end of the semester to their classmates, helping them gain presentation experience in a professional setting. They will also practice writing popular articles on biotechnology topics to effectively communicate their ideas to the general audience. The course will also provide a lot of opportunities to develop a cohort of students within the program itself. There will be a lot of discussion questions where students are encouraged to participate with each other. This way they can learn to field questions and other ideas in a professional manner and to expand their perspectives on subjects.
Q: What most excites you about teaching the UW Applied Biotechnology "Principles of Biotechnology" course?
Biotechnology is one of the most promising fields when it comes to job opportunities as well as for its contributions in solving challenges in many different industries, such as human or veterinary medicine, agriculture, and bioremediation. What motivates me is the satisfaction that my services benefit my students and can impact the world in a positive way. So, by being interested in biotechnology and wanting to further their education, my students are already on an exciting path!
I'm very much looking forward to the world of expertise and experiences that UW Applied Biotechnology students are going to bring to the classroom. Some students may be bringing a lot of experience and knowledge from medical biotechnology, and others may have expertise in plant biotechnology or animal biotechnology. I am eager to see how all of their experiences fit into the coursework and push exciting discussions forward.
Also, it's important to keep in mind that teaching is two-way learning. As a professor, I get to teach what I know or what I'm familiar with. But then, I also learn from my students on how they approach a given problem. And through those discussions together, we analyze things in different directions, different angles, and form a community of learning and exploration. I'm really looking forward to teach as well as simultaneously learn from my students.
Q: What advice do you have for prospective UW Applied Biotechnology students?
With UW Applied Biotechnology being an online program, students will really need to focus on their time management skills. The course is structured in a way that encourages interactions among students on a weekly basis in discussion forums or to work in teams to complete assigned tasks. Still, it might be easier for a student in an online course to hide. They need to work on coming out of their shell and actively participate in class discussions. 
Also, with the way my course is planned out, procrastinating one week on assignments can catch up with you quickly. The semester moves fast, so be prepared for that mindset to keep going and to not push things off.
Bring enthusiasm to any course that you take. Take advantage of the discussion boards and start to build your network with peers, because right away you can establish a strong cohort of applied biotechnologists who can encourage you, help you, and present you with professional opportunities down the road. You can be a leader this way—starting discussions, asking questions, or helping someone out. Active participation is one of the components that will help you build leadership skills that you can carry beyond this course and into your professional future, so prepare to be an active learner.
What's Next?
Want to learn more about how expert faculty members, like Muthu Venkateshwaran, teach and prepare UW Applied Biotechnology students for exciting careers in the field? Check out the program's curriculum or contact an enrollment adviser at 1-877-UW-LEARN (895-3276) or learn@uwex.wisconsin.edu