Editor's Note: Dr. Melinda Verdone was the program manager of the University of Wisconsin Master of Science in Applied Biotechnology (ABT) program from 2019-2021.
Dr. Melinda Verdone is the program manager of the 100% online University of Wisconsin Master of Science in Applied Biotechnology (ABT) program. Spending her childhood in the western suburbs of Chicago, Melinda was a curious kid who enjoyed learning about the natural world. During the summer months, she would explore the big pond by her house, and imagined that when she grew up she would be a veterinarian because of her love for animals.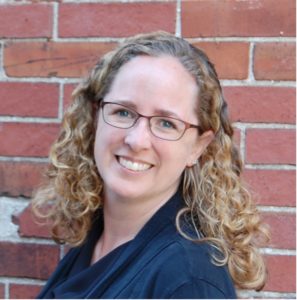 She was introduced to the world of microbiology as an undergrad studying at Western Illinois University. "It was the first time that I spent a lot of time looking into a microscope, and it was really fascinating to me," Melinda said. "It was like a whole other unseen world to figure out. I was hooked!" Melinda went on to become a biology major and later earned her master's degree in microbiology from Northern Illinois University. Like most professionals entering the science field, she started as a lab technician and worked her way up to research scientist and finally, lab manager. 
Melinda found herself drawn to training and teaching others in the lab setting, and took on adjunct faculty roles at various community colleges, teaching evening classes across the Chicagoland area. This led her to complete a master's degree in education from Edgewood College while simultaneously working as full-time faculty at Rock Valley College, where she taught microbiology and introductory life sciences. Next, she was a senior education specialist and adjunct assistant professor at the Chicago College of Pharmacy at Midwestern University. There, she taught graduate-level biochemistry courses and workshops, and supported students as they worked toward their PharmD degree. Throughout her adjunct and full-time teaching roles, she has been able to share her experience in assay and drug development for diabetes, Alzheimer's disease, and biodefense.
After more than 15 years working as a scientist and 13 years of teaching experience, Melinda was ready to take her passion of teaching further by earning her Doctor of Education from Edgewood College. "I'm a strong believer in higher education and the places that it can take you," she said. "You may not always know where your career may take you, but education can help you be prepared for the next step, whatever that may be."
Today, Melinda focuses on the needs of students in the UW Applied Biotechnology degree program. In the following Q&A, she discusses her role, what motivates her to keep learning, and how she plans to continue the conversation about biotechnology and its importance in our lives.
Q: WHAT DREW YOU TO THE UW APPLIED BIOTECHNOLOGY PROGRAM MANAGER POSITION?
I was looking for the next step in my career and to return to Madison—a city that I love. The UW Applied Biotechnology program manager position came up during my search, and I thought that it was the perfect merging of my biotechnology and higher education experience. I can really think about what faculty might go through in terms of developing their coursework or teaching the courses. And then, having experience as an online student myself, from Edgewood College, I strongly connect with our students' perspectives, which helps me understand what is helpful in terms of curriculum, or what we can do better to help our online students.

Request More Information
Download a program guide for the Master of Science in Applied Biotechnology or Graduate Certificate in Applied Bioinformatics with details on admission requirements, tuition, and courses.
Q: WHAT ARE YOUR RESPONSIBILITIES AS A PROGRAM MANAGER?
I coordinate the specifics of the degree program between our seven UW System partner campuses and the support we provide here at UW Extended Campus. What motivates me in the role is that I always keep the student in mind. I want to provide the best possible educational experience for students so they are prepared for that next step in their career.
Similar to my own journey in discovering what interested me in the science field, I hope that the UW Applied Biotechnology program team and I can provide that to students. My hope is that students have the opportunity to dive into what interests them and to gain the knowledge and skills necessary for careers in the biotechnology field.
Q: HOW IS UW APPLIED BIOTECHNOLOGY DIFFERENT THAN OTHER ONLINE DEGREES?
I am continually impressed by the caliber of our curriculum. There was significant input from biotechnology industry members regarding the skills they want students to have when they arrive at their companies. At the end of the day, although students want to learn something, they also want to be employed, or to achieve a higher position within their current role. We have made sure that our courses are tailored toward what industry leaders are looking for.
The UW Applied Biotechnology degree has three different tracks: Quality Assurance and Compliance, Business Management, and Research and Development. By choosing one or multiple tracks, students can pursue what interests them as they advance through the degree. You can personalize your learning, which is a unique aspect of our program that makes us stand out.
Q: WHY SHOULD PROSPECTIVE STUDENTS CONSIDER UW APPLIED BIOTECHNOLOGY?
You will receive a high-quality, University of Wisconsin education. You'll be taught by faculty across seven UW System campuses, which is not something you encounter with other online or on-campus programs. You also have the flexibility that comes with online learning. At UW Extended Campus, we are focused on nontraditional, adult students who are looking for educational options that fit into their lives. We don't want students to feel like they need to quit their jobs in order to go back to school full time, which really was the only option available when I was in grad school. So, we have come a long way!
Q: HOW WILL UW APPLIED BIOTECHNOLOGY GRADUATES CONTRIBUTE TO THE FUTURE OF BIOTECHNOLOGY?

Biotechnology has an impact on everyone's lives, whether we think about it or not. It touches things like food, agriculture, medicine, and a lot of the materials in our everyday lives come from biotechnology research.
Because the UW Applied Biotechnology curriculum is tailored to what industry leaders are looking for, graduates will immediately be able to participate in biotechnology's positive impact. Also, we revise our curriculum frequently so that we can stay on top of trends and needs that are constantly changing in biotechnology. This ensures that our graduates are capable of addressing the most pressing issues in the field.
Q: WHAT ADVICE DO YOU HAVE FOR PROSPECTIVE STUDENTS?
In terms of your career goals—decide what you want and go for it. If you feel like you're in a career and you're not happy, it's not as difficult as it once was to change direction or to get the education that you need to do what you want.
One of the sayings I share is to "always be learning." I really take that to heart. I'm always learning something new, always challenging myself to do things that are intimidating, which, as you get older, is not always easy. But, I push myself, and it has had a really positive impact on my life.
I think it's OK to be afraid, but know that there's a lot of support for you here with our enrollment advisers and Student Success Coaches. You're not on your own. And if you have family responsibilities, a very demanding job, or an overall busy schedule, it can help to talk to people ahead of time and tell them why it's important for you to take this step in your education. You might be surprised how supportive people can be.
Q: HOW CAN PROSPECTIVE STUDENTS LEARN MORE ABOUT THE UW APPLIED BIOTECHNOLOGY DEGREE?
I love talking to students, and if they ever have any questions about the degree or if they want to share their situation, I'm happy to connect with them. First, they should contact one of our enrollment advisers who have a wealth of information, and who can put them in touch with me. I'm happy to help where I can, because I remember what it was like to be in their shoes.
Q: WHAT ARE YOUR UPCOMING PLANS FOR THE UW APPLIED BIOTECHNOLOGY DEGREE PROGRAM?
I will be publishing The Affinity Column, a series of blog posts on the UW Applied Biotechnology website to connect more with current and prospective students. I like to stay informed about the biotechnology field. I read a lot, I listen to podcasts regularly, and I watch documentary series recommended by my biotechnology colleagues. This blog series will be a fun opportunity to share what I find interesting to those currently in or who are interested in our degree program. I hope it starts more conversations about the exciting happenings within biotechnology.
Learn more about the University of Wisconsin MS in Applied Biotechnology by reaching out to a knowledgeable enrollment adviser at 1-877-UW-LEARN (895-3276) or learn@uwex.wisconsin.edu.