MS in Applied Biotechnology
Learn the skills driving biotechnology today.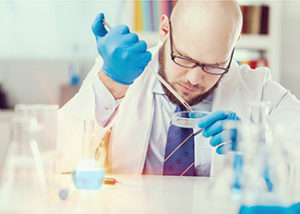 Every day, biotechnology is working to solve some of the world's most pressing problems and moving forward with revolutionary solutions. Whether your experience is based in healthcare, agriculture, or industry—the online Master of Science in Applied Biotechnology is an ideal choice for busy adults who are seeking advanced education and need the flexibility an online program offers.
The online learning format offers working adults a flexible, convenient way to pursue an advanced degree. Because the coursework in the program is entirely online, you can study and do homework whenever you like, wherever you have an internet connection. Courses have no set meeting times and you never need to come to campus. At the same time, you will have ready access to success coaches and faculty by phone and email, and you may take advantage of on-campus resources such as career assistance and libraries.
UW System Collaboration
The Master of Science in Applied Biotechnology is a partnership of UW Extended Campus and UW-Green Bay, UW-Madison, UW-Oshkosh, UW-Parkside, UW-Platteville, UW-Stevens Point, and UW-Whitewater.
You'll earn your degree from the University of Wisconsin, one of the largest and most widely respected public higher education systems in the country. And the multi-campus partnership means you'll learn from expert faculty across the UW System with strong connections to the industry.
Accreditation
Whether online or on campus, University of Wisconsin programs have a reputation for delivering world-class education and student support. Accreditation is your assurance that you will graduate with skills that are relevant to your field and valued by employers.
The Master of Science in Applied Biotechnology is approved by the University of Wisconsin Board of Regents and fully accredited by the Higher Learning Commission.
Curriculum
You'll graduate from the program with an understanding of the principles and techniques of biotechnology, including ethical, safety, and privacy concerns; funding; intellectual property and patents; professional and technical communication; experimental design and analysis; and organizational leadership—all within the scope of the global biotechnology industry.
11 Courses. 31 Credits. 100% Online.
To complete the degree, you will choose one or more specialization tracks:
Quality Assurance and Compliance
Business Management
Research and Development
Explore the program curriculum and course descriptions.
Admission
To be eligible for this program, students must meet the following requirements:
Bachelor's degree from an accredited university (min. 3.0 GPA)
Prerequisite coursework: two semesters college-level lab coursework in biology and/or chemistry
Aptitude tests, such as the GMAT or GRE, are not required for admission.
Students must satisfy all admission requirements before starting the program and will not be allowed to take outstanding prerequisite courses concurrently with introductory program courses. Students with a GPA of less than 3.0 may be considered for provisional admission. Program academic directors have the option to waive one or more of the above prerequisites based on student work experience and background.
If you are not sure whether you meet these requirements, or which courses you need to take to satisfy prerequisites, contact an enrollment adviser by phone, 608-262-2011, or email learn@uwex.wisconsin.edu.
>>Applying to the Applied Biotechnology master's program.
Tuition and Financial Aid
Tuition for the program is a flat fee of $850 per credit whether you live in Wisconsin or out of state, and financial aid is available for students who qualify. Learn more about tuition and financial aid.
Program Membership
The Master of Science in Applied Biotechnology program is a member of: