What is Applied Biotechnology?

Applied biotechnology is biotechnology with an industry focus with an emphasis on practical skills that allow graduates to pursue jobs in a variety of settings, such as industrial, food, agriculture, environmental, and healthcare. Graduates of an applied biotechnology program have gained an understanding of the principles and techniques of biotechnology within the context of the global biotechnology industry. By taking the skills learned during the program and applying them within a professional environment, graduates are able to communicate, perform research, and lead effectively within biotechnology organizations.
Applied biotechnology skills and knowledge include:
Research design and data analysis

Critical thinking, problem solving, and troubleshooting

Business strategy and entrepreneurship

Scientific project management

Legal and regulatory affairs

Written and verbal technical communication

Leadership and teamwork

Professional and ethical behavior
These practical skills are used by professionals in the biotechnology field daily. 
"The Masters in Applied Biotechnology program takes what was learned in the Bachelor of Science programs and applies it to the professional environment. With biotechnology moving at such a rapid pace, this program equips students with all the tools, including project management, quality control, and leadership to be successful." – Luke Drury, Prevention Genetics
Applied Biotechnology Careers Outlook
Although the field is still considered young, scientists have developed many innovative products that have improved our lives in diverse ways, and the field is continually expanding through new discoveries and innovative products brought to market. Recent innovations include cancer immunotherapies, smart sensors for disease detection, and COVID-19 tests and vaccines.
There are a variety of career opportunities.
Applied biotechnology graduates have the opportunity to work in a variety of scientific areas with diverse job titles and responsibilities, such as: food, agriculture, environmental, healthcare, and industrial materials and products. Qualified biotechnology professionals are in high demand, and an advanced degree in biotechnology helps to set you apart from other applicants.
Employment and wages are on the rise.
According to the 2020 BIO (Biotechnology Innovation Organization) report, bioscience industry employment has grown by around 7 percent since 2016. The average annual salary for the bioscience industry was reported as $107,000, about double the average salary in the U.S.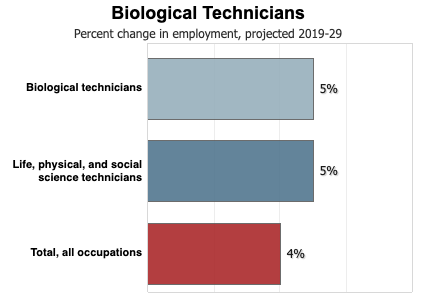 Going forward, the biotechnology field is predicted to continue its expansion. Careers, including biological technician, agricultural and food scientist, medical scientist, and microbiologist, are projected to grow between 4-7 percent before 2028, according to the U.S. Bureau of Labor Statistics. 
Applications of Biotechnology
The purpose of biotechnology is to use biological concepts to create technologies and products. It is the practical arm of biology. However, many other scientific fields work in partnership with the biotechnology industry to generate useful products.
Biomedical Engineering
Biomedical engineering and biotechnology are both applied fields that focus on developing products. The main difference between the two fields is that applied biotechnology does not solely focus on medical applications. Biomedical engineers design and create products related to the functions of the human body, such as artificial limbs, medical devices, and stem cells.
Biopharma
The biopharmaceutical field is a subset of the pharmaceutical industry that produces drugs and medications using biological methods. Biotechnological research findings aid in the development of these pharmaceutical products.
Molecular Biology
Molecular biology refers to the study of molecules within the cell, including their composition, structure, and interactions. Biotechnology uses the scientific knowledge of molecular biology in the research and creation of useful products.
Biotechnology is Everywhere
Applications of biotechnology are found in nearly every industry–from crop production to vaccine development–and opportunities can be found in both urban and rural areas.
Biotechnology opportunities in the areas of agriculture, food production and processing, environmental, and healthcare can be found in locations throughout the state. Promega, Exact Sciences, PPD, and Epic Systems are headquartered in the Madison, WI area. Thermo Fisher Scientific, MilliporeSigma, GE Healthcare, and Phillips-Medisize–biotechnology companies well-known in the industry–have locations dispersed around the state.
BioForward Wisconsin is a member-driven organization that promotes the growth of the biohealth industry in the state of Wisconsin. 
Why Get an Applied Biotechnology Degree?
An applied biotechnology degree gives you the opportunity to pursue your passion and make great strides in creating a better future. Biotechnology professionals are solving some of the world's most pressing problems, including the treatment of COVID-19 and other diseases.
The UW Master of Science in Applied Biotechnology program offers multiple tracks so that students can pursue their interests, including Quality Assurance and Compliance Business Management, and Research and Development. Each program focuses on different skill sets, but all three prepare students for work in diverse biotechnology areas.
What's Next?
The Master of Science in Applied Biotechnology offers a choice of three tracks—Quality Assurance and Compliance, Business Management, and Research and Development—so you can pursue what interests you. The Graduate Certificate in Applied Bioinformatics teaches you how to process biological data from scientific research, such as large-scale genomics and other molecular and biological datasets, using computation and analysis tools.
Do you want to learn more about UW Applied Biotechnology? Contact a knowledgeable enrollment adviser at 1-877-UW-LEARN (895-3276) or learn@uwex.wisconsin.edu.